Anisa Bhatti, 

Mezzo-Soprano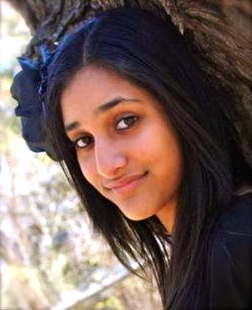 2011 Season Role:

Servant Girl/Chorus Member

 in Mozart's Il Re Pastore

Biography:

​Age 13, Anisa Bhatti has been studying voice with Marianna Benedict for almost 7 years, whom she believes is a "great music teacher" and has helped her develop her vocal technique. She has performed as a vocal soloist in student recitals at Marianna's Music Studio twice annually since age 7. She has also participated in her school show choir, as well as NYSSMA festivals for several years. In her first year of NYSSMA, Ms. Bhatti received a perfect score on her Level 3 solo. She continued to score high in NYSSMA in the following festivals, receiving an "Outstanding" grade in level 4, and an "A" in level 5, when she performed the French art song, "Si mes vers avaient des ailes" by Hahn. Upon being accepted into the chorus of "Il Re Pastore," Ms. Bhatti is even more motivated to work hard at her singing. She enjoys working with the 2011 cast and is excited about the upcoming performances. 

Ms. Bhatti has also had training on the violin and piano, and has participated in the "Summer Music & Drama Program" at Marianna's Music Studio for several years, where she performed fully-staged scenes from musicals. Roles include "Cinderella" from Rodger's & Hammerstein's Cinderella, ensemble from Grease, and "The Lion" in a staged performance of "The Lion Sleeps Tonight."